Review: Kinco 901T Ski Mitt
Review: Kinco 901T Ski Mitt
The Kinco 901T Ski Mitt is a close version to the popular Kinco 901 Ski Glove. Kinco gloves are worn extensively by ski patrollers and forecasters due to their durability, cost, and warmth. The Kinco 901T Ski Mitt keeps your hands warmer and are especially practical during long ascents in colder weather when you do not need the function of full finger gloves. The Kinco mitts have all the familiar traits of the Kinco ski glove to include pigskin leather, HeatKeep®, and Draylon® thread construction. The mitts have a comfortable five finger lining on the inside.
Although the Kinco mitts are pretreated with Revivex® DWR waterproofing, I would still recommend a Sno-seal treatment to seal the leather pores. Unlike the Kinco gloves, a full break in to loosen the dexterity is not necessary. One treatment of Sno-seal and they are ready to go.
I have found the Kinco mitts to be an awesome addition during the colder months, especially on long ascents. I tend to switch to the ski glove when I need more dexterity. For the calendar winter months however, these are a must have. While these are a mitt, I have found the dexterity to be surprisingly good and considerable design thought has been given to the liner. Similar to the 901 ski glove, the mitt has a full elasticated cuff with leather pull tab.
Kinco 901T Ski Mitt Specs
"FeaturesKnit Cuff →Leather Finish →Pigskin Leather →Drylon Thread →
Kinco 901T Ski Mitt
Durable pigskin leather out wears regular cowhide and fabric ski gloves
Extra HeatKeep® thermal lining for those exceptionally cold days
Reinforcing leather patches sewn with Draylon® thread covering the palm area and fingers for extra abrasion protection
Pre-treated with REVIVEX® waterproofing solution
Comfortable 5-finger lining
The Knit Wrist is a comfortable and snug fitting that helps prevent snow and ice from infiltrating the glove, while simultaneously keeping in warmth.
Leather which has not had the upper "top grain" and "split" layers separated. This leather is the second-highest quality and has had the "split" layer separated away, making it thinner and more pliable than full grain.
Pigskin leather is tough and pliable. Soft drying and flexible, pigskin leather withstands moisture without stiffening. It also has excellent abrasion resistance and durability.

Draylon is used on many of Kinco's double palm sewn gloves because of being the best known material for abrasion and tensile strength. Known to be used in parachute cords can speak for its strength.
Break in
A few tricks to soften, seal, and make the HeatKeep® work to your advantage.
This method is similar to the break in of the Kinco gloves, with fewer steps involved. While the process does take some extra time, it is a small investment for critical gear that will last you years and keep your hands toasty.
You will need:
Kinco mitts
Sno-seal
Rag
Oven
As I mentioned earlier, Kinco mitts need to be wax sealed with Sno-seal. Apply are very liberal coat of Sno-seal with a rag. Place the mitts in the oven at around 175° F for 5-10 minutes until you see all the Sno-seal soak in (it is soaked in when there is no longer a shiny wet looking surface). DO NOT warm higher than 175°, the elastic knit cuff and Draylon thread cannot take heat above this temperature – take your time, use a lower heat setting.
Lastly, I remove the plastic mitt keeper and replace it with a small quality carabiner. I have had the plastic break at lower temps in the past.
You will find Kinco gloves at many mountain hardware stores, online, or you can search for a reseller directly from the company website. www.kinco.com
---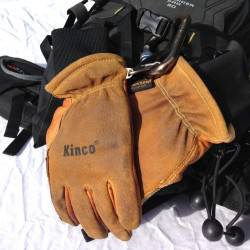 Also check out the review of the Kinco 901 Ski Glove

Retail price:
$24.99

Ski resorts and patrol personnel can sign up for a direct account from Kinco.