Gear Review: Kinco 901 Ski Gloves
I'm going to give a no nonsense review of the Kinco 901 Ski Gloves. Some people refer to them as the 'twenty five dollar Hestras'. I refer to them as the 'twenty five dollar miracle'. Kinco gloves are bulletproof I will give them that. Which is why virtually every patroller and avalanche forecaster wears them. If you are simply riding a chairlift up, putting on bindings, posing for resort selfies, and hitting the lodge for Après-ski — these may not be the gloves for you.
If however, you are in the backcountry riding, skiing, ice-climbing, or otherwise putting a great deal of wear and tear on your gloves, keep reading.
Kinco makes a full line of different gloves, this review will cover the Kinco 901 Ski Glove.
Kinco 901 Ski Glove Specs
"FeaturesKnit Cuff →Leather Finish →Pigskin Leather →Drylon Thread →Sizes →
Kinco 901 Ski Glove
Durable pigskin leather out wears regular cowhide and fabric ski gloves
Extra HeatKeep® thermal lining for those exceptionally cold days
Reinforcing leather patches sewn with Draylon® thread covering the palm area and fingers for extra abrasion protection
Pre-treated with REVIVEX® waterproofing solution
Double Palm
Full Leather
Fully Welted
Pairing Hook
Easy-On™ or Shirred Elastic Cuff. The Knit Wrist is a comfortable and snug fitting that helps prevent snow and ice from infiltrating the glove, while simultaneously keeping in warmth.
Leather which has not had the upper "top grain" and "split" layers separated. This leather is the second-highest quality and has had the "split" layer separated away, making it thinner and more pliable than full grain.
Pigskin leather is tough and pliable. Soft drying and flexible, pigskin leather withstands moisture without stiffening. It also has excellent abrasion resistance and durability. Durable pigskin leather out wears regular cowhide and fabric ski gloves

Draylon is used on many of Kinco's double palm sewn gloves because of being the best known material for abrasion and tensile strength. Known to be used in parachute cords can speak for its strength.
Men's Small, Men's Medium, Men's Large, Men's X-Large
HeatKeep®, the thermal insulator used in Kincos is made from finely spun polyester fibers that create air pockets which purportedly trap generated body heat and insulate from cold coming in. This is combined with nylon and polypropylene which wicks moisture away from the skin. Essentially a non-wicking fabric combined with an insulator.
Draylon® thread is a huge plus. Draylon or "Dralon" is a polymer (polyacrylonitrile) group of acrylic fibers — known to be super tough, much more so than Nylon which you will find in a vast majority of other gloves. Nylon thread construction is the main reason most people have to buy new gloves every year.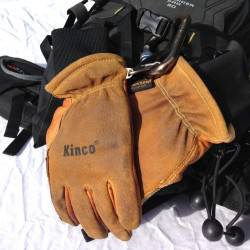 Some notes about the above features. Kincos used to be treated with Nikiwax, now they appear to be treated Revivex, both of which are a DWR. Both products are virtually the same, although neither company will provide proprietary information as to why their product is superior. I have used both products to DWR treat shell jackets and pants after 5-6 uses in the backcountry. The fact is, even on fabric a DWR has to be reapplied with heat in order for it to be effective. I would imagine the typical DWR life cycle from a glove is even less. So the claim that Kincos are somehow ready to go out of the box is a bit of a misnomer. The only way to treat a leather of this caliber is with a wax seal such as Sno-seal. I will illustrate a method below that will make your Kinco gloves waterproof, warmer, less break-in time, and last many years!

The Pro's
Kinco gloves are seriously tough as nails. Ask any patroller and they will tell you how many seasons they have had their Kinco gloves. A patroller's daily routine includes lining rope, pulling toboggans, handling cable, and countless tasks in the actual snow.
They are warm when you properly fit them.
The gauntlet has a leather pull so you do not wear out the elastic on the gauntlet.
They are waterproof if you seal them right.
The price point is amazing. You can find the Kinco Ski Glove for around $25-30, but you aren't going to find them at REI or trendy ski shops.
Con's
They are not dexterous, not by a long shot. Once they are broken in you will have quite a bit movement, but the break in period takes awhile.
If you do not properly seal these or rely on the DWR they will not be waterproof, in fact, they will absorb water — like any leather.
Kincos take a little extra effort to seal and break in, but the durability, longevity, and warmth you will get is well worth the effort.
Break in
A few tricks to soften, seal, and make the HeatKeep® work to your advantage.
Most of the time, the reason fingers get cold is because the finger does not have enough space in the glove and is crammed or scrunched. Not only does this reduce circulation, but the insulation does not have the air padding to be effective. By stretching the leather form-fit to your hand, you will give your hand and fingers space for the insulation to work properly.
Here is an excellent method to achieve break-in and sealing at the same time. While the process does take some extra time, it is a small investment for critical gear that will last you years and keep your hands toasty.
You will need:
Kinco gloves
Thin glove liners
Sno-seal
Rag
Cotton balls or tissue paper
Oven
As I mentioned earlier, Kinco gloves need to be wax sealed with Sno-seal. Apply are very liberal coat of Sno-seal with a rag. Place the gloves in the oven at around 175° F for 5-10 minutes until you see all the Sno-seal soak in (it is soaked in when there is no longer a shiny wet looking surface). DO NOT warm higher than 175°, the elastic knit cuff and Draylon thread cannot take heat above this temperature – take your time, use a lower heat setting.
Get a thin glove liner and pack the fingers with tissue or cotton balls. Adding extra length the fingers in the glove liners is important as it will stretch the leather slightly and give you finger tips more adequate room for the insulation to work. Put the liners on, and when you pull the Kincos out of the oven, put them on and make a repeated fist and flex flat until they cool (a few minutes).
Repeat a liberal application of Sno-seal and place them back in the oven again until the Sno-seal has permeated the leather. Again, placing the gloves on your hands with the liner until they cool. You will want to repeat this process until you notice the Sno-seal is no longer soaking in to the leather (the surface will remain shiny). The number of applications will depend on the grain of the leather, but count on five to six rounds.
The more times you can re-heat the leather and stretch the gloves making a fist and flexing with a liner inside the glove, makes the break in period significantly less. Just wearing the gloves will eventually break them in too.
Conclusion
Kinco gloves are rugged, but they take some work to dial them in. If you are looking for a glove right out of the box to sip your Latte, this probably isn't the glove for you.
In parallel thinking with the Layering System, these function very well below 20°F in to the single digits with a thin liner (Smartwool, Serius, or Icebreaker all work great). Many items, such as the beacon, altimeter, binding adjustments, snacks, etc, are cumbersome to fidget with in Kinco gloves. When I pull my glove off I don't want my hand exposed. A cold hand put back in to a glove will have a reverse insulation effect, the same as a cooler does to a cold beer. I can't wear Kincos constantly above 35° F or my hands begin to sweat. The danger of course is not to allow your hand to sweat in these (as with any glove). If it does, a nice trick is to put the glove over the top of the trekking pole so it keeps the inside breathing and evaporates moisture.
Kincos perform equal if not better than similar all leather trendy name-brand gloves marketed for skiing and backcountry use, at roughly four times less in cost. If you break these gloves in properly, you can expect to get several years out of them. It's highly unlikely you will have an equipment failure with them when you need them most.
---
Sizing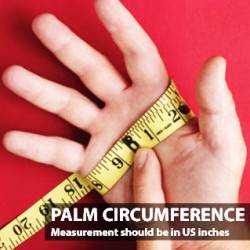 Size Chart

---
Retail price:
$26.99
You will find Kinco gloves at many mountain hardware stores, online, or you can search for a reseller directly from the company website. www.kinco.com


Ski resorts and patrol personnel can sign up for a direct account from Kinco.

Also check out the review of the Kinco 901T Ski Mitt

---
I get numerous comments about where to find the Kinco 901T Ski Gloves. In Summit County, CO the former Ace Hardware would carry them, but now that it has closed the only place to find them is Sanders True Value Hardware in Silverthorne, CO – but they have really marked them up in price. McGuckins Hardware, Boulder, CO carries them. You can order them online much cheaper, even with shipping.