The Layering System - Part Two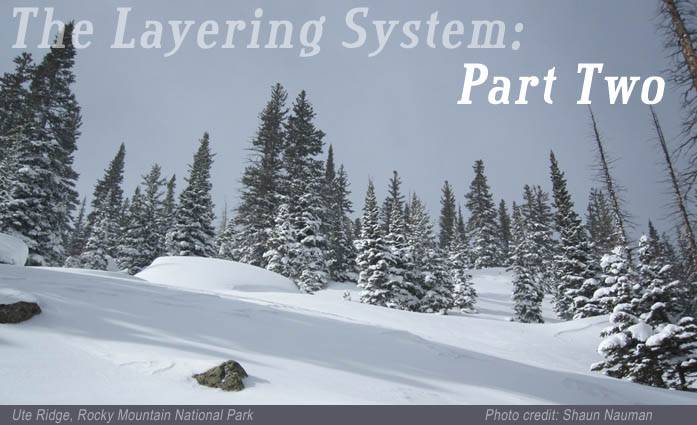 The Layering System
By Shaun Nauman
<< PART 1 | PART 2 | PART 3 >>
In Part One we covered the mechanisms of heat loss.
PART TWO – Layering Basics
I want to take a few moments to paint the broad strokes of layering basics. In order to properly layer you have to think of your clothing as a system that regulates your energy, comfort level, and body temperature. The most important thing that layering does is regulate your body temperature and move moisture away from your body. This gives you maximum comfort and performance. Understanding the layering fundamentals of tech clothing can help you decide which layering system is right for you. I will mainly be focusing on the Three Layer System since that applies to about 90 percent of the ski and snowboard mountaineers as well as other outdoor enthusiasts. Note that the four layer system typically used in expeditionary activities will not be discussed in great detail here.
Layering consists of three parts;
Base Layer
Mid Layer
Outer Layer
BASE LAYER
The base layer you wear next to your skin. This layer always stays on you during the day. Its primary function is moisture management, moving moisture away from your skin. In warmer temperatures a tech t-shirt can serve as a base layer. It is important that the material wicks moisture from the skin. Tech base layers that wick moisture are broken in to three categories: Synthetic, wool, and wool /synthetic combinations. Synthetics such as polypropylene, capilene or polyester, dry the fastest when wicking, and are typically the least expensive.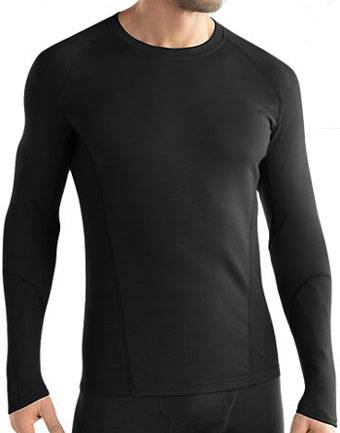 Merino wool or merino/synthetic combo is another slightly warmer solution but does not dry quite as fast. Either choice of material evacuates humidity from the body. Most outdoor enthusiasts choose a merino/synthetic combo since it stays comfortable over a larger temperature gradient. The exception to this are rock climbers, whom typically prefer synthetic since it is more durable and does not catch as easily on objects when exposed as an outer layer.
The base layer should be reasonably tight or compression fitting and fit all the contours of your body to work efficiently. A base layer is the layer closest to your skin, meaning it collects the most sweat. The purpose of this layer is to keep you dry by pulling moisture away from your skin and spreading it throughout the fabric.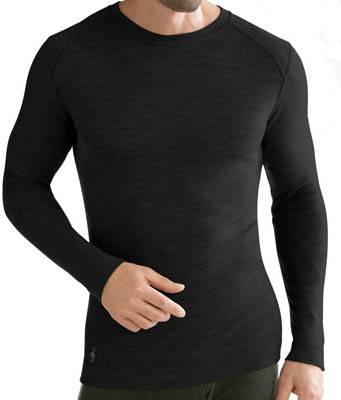 I have two different types of base layers that I use depending on what I am getting in to. For colder temps – usually under 10 degrees or when I know I might be at a low activity level (climbing, standing in one area, or prolonged exposure on a summit) I wear SmartWool® NTS. For general use I usually wear an Arc'teryx Phase SL (polartec) base layer. Base layers are often referred to in light and mid The force created by gravity acting on a mass." class="glossaryLink " target="_blank">weight. A lightweight base layer is a usually a silk layer or combo wool layer. Most alpine touring ski, snowboarders and hikers prefer the thin lightweight base layers such as the SmartWool® Next-to-Skin (NTS) or Arc'teryx Rho LT. When performing strenuous activities, even in cold environments, overheating can be as big a problem as keeping warm. This is a key element in the layer system.
MID-LAYER
The next part of the three piece layering system is the mid-layer. The mid layer is worn over your base-layer, it will likely be changed out, added, or shed depending on the activity level and elements. Depending on the climate, this layer might include insulation. Many will wear a softshell as their mid-layer. Most people only wear a mid-layer on the upper body.
The material type and articulation of the mid-layer is important. Again you want a breathable and wicking material that rapidly evaporates moisture transferred or evacuated from your base layer. The design of the mid layer should have low profile cuffs, and shoulders so it does not bunch under your outer layer.
You do NOT want to wear multiple items as a mid layer thinking they will keep you warmer. This actually has an opposite effect and will make you colder because your body cannot evacuate moisture (mechanisms of heat loss).
My mid-layer is pretty constant and I usually wear the Arc'teryx Gamma MX softshell. I have independently reviewed the Gamma MX in more detail, but in summary – the breathability and articulation of the Gamma MX is superior as a mid-layer. In the spring months while splitboarding it often serves as my outer layer. One colder days (below zero) I would recommend the step up from the Gamma MX, and migrate to the Arc'teryx Hercules which offers a pile and additional insulation.
OUTER LAYER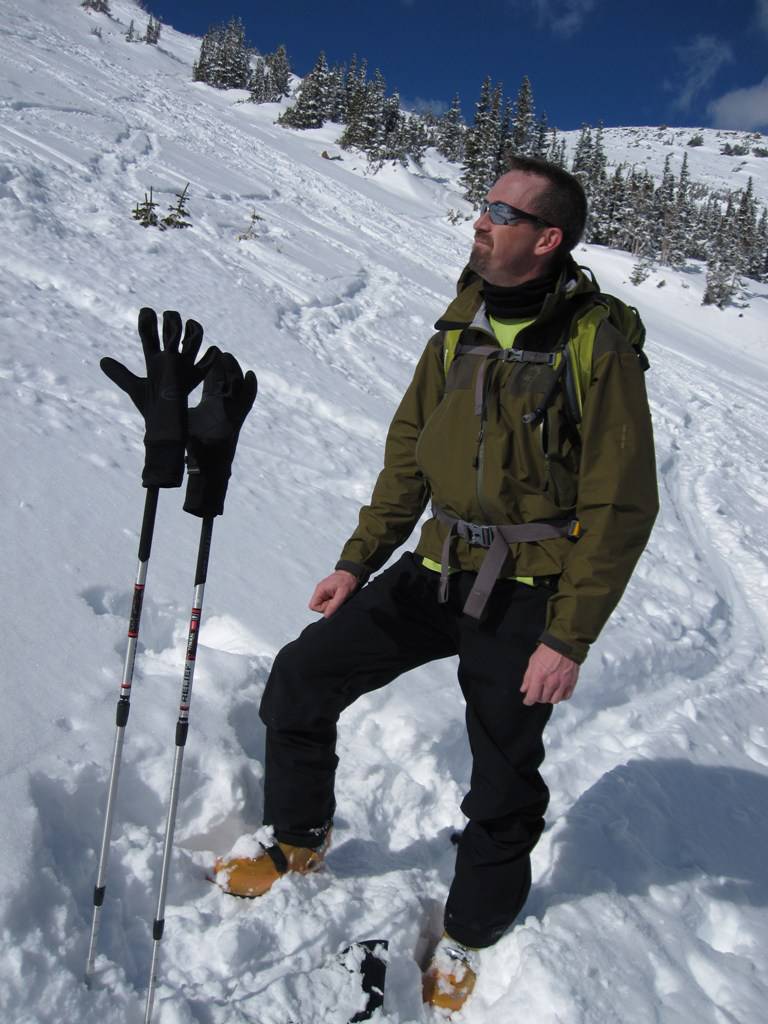 The outer layer is your top layer, often referred to as a hardshell. While this outer-layer does have to breath, it's primary function is to protect you from the elements.
My outer layer is either the Arc'teryx Beta AR or the Arc'teryx Theta AR, again I have independently reviewed both jackets more in depth. These jackets are very close in design and performance. I usually use the Theta AR for deeper snow, or more exposure since the base is tailored slightly different. The Beta AR offers maximum movement.
For the lower hard shell (pants), Arc'teryx Beta AR or the equivalent REI Taku pants I use about 75% of the time. For colder days (below zero), the Arc'teryx Beta AR or the Arc'teryx Fury are both optimal. In all honesty if you have to scatter your investment in tech clothing, I would worry less about the lower (pants) and get something suitable with ventilated side zips, internal integrated gators, and a Windstopper® Gore.
Make note; some advanced alpinist and mountaineers that include the AT ski & snowboard crowd omit the mid layer system altogether and go for a high performance base layer and tech outer layer. This system is elite and ultra-light. I would not recommend this system unless you understand how to regulate your body core-temp.
Base layer, mid-layer, outer layer; these are the three components of a layering system. When you think of it as a system it gives you flexibility through variable weather, conditions, and activity level. Failing to understand how layering works can actually cause your body to be colder even though you are wearing more clothing. Sweat in the backcountry is enemy number one. Improper layering on a warm descent to a summit while physically active touring can cause the moisture transportation system in your body to be inefficient, causing excessive moisture buildup on clothing next to your skin.
In Part Three we will take an in-depth look at the outer layer and make the case for Arc'teryx hardshells.