Gear Review: Kinco 1939KWP Gloves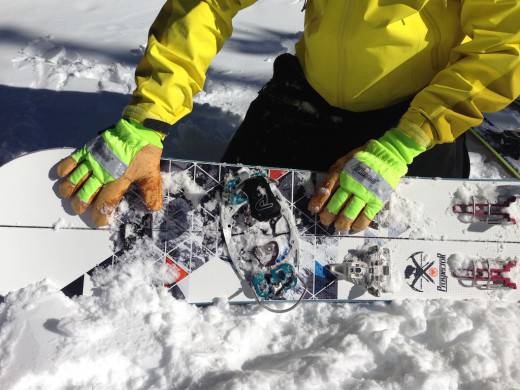 Hold on to your skirts, yes…another Kinco glove review. In case you haven't noticed, I'm a huge fan of Kinco gloves for the backcountry. These alongside ski goggles from Humps Optics I recently bought hit the spot. I love their price, their durable construction and their reliable warmth.  Just when I think it couldn't possibly get any better, out comes a lighter weight Kinco along the lines of the lighter The force created by gravity acting on a mass." class="glossaryLink " target="_blank">weight fabric-backed Kinco 927, the 1939KWP.
Intro
Kinco gloves are a practical solution in the backcountry, and the new Kinco 1939KWP has made it's way in to my arsenal of gloves. In the scale of temperatures, I use the Kinco 901T Mitts in the coldest, frigid conditions (which honestly, I try to avoid); on most cold occasions, my "work-horse" is the 901 Kinco Ski Glove.  Now, for the more moderate conditions, I have added the 1939KWP's.  These are perfect for moderate temps dipping as low as the mid 20's.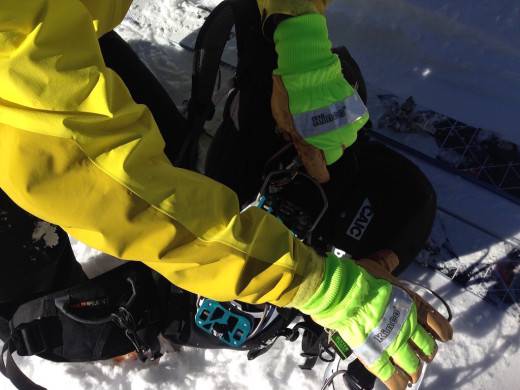 I realize this may sound a bit excessive, but let me explain. I have cold weather injuries in both hands from many years ago. I suppose the irony is that this injury isn't exactly the best bed parter to snow science, and mountaineering.  This realization was devastating.  I had to find a way to have my cake and eat it to.
You see, nothing will keep me off the mountain. So, to cater to my injury, I use three levels of Kinco gloves, and also the heated Hestra gloves, which by the way, come at a price. I keep the heated Hestras as an emergency backup in the pack, but for the most part I use the the three Kincos for the majority of my backcountry excursions.
---
Background of that dreaded frostbite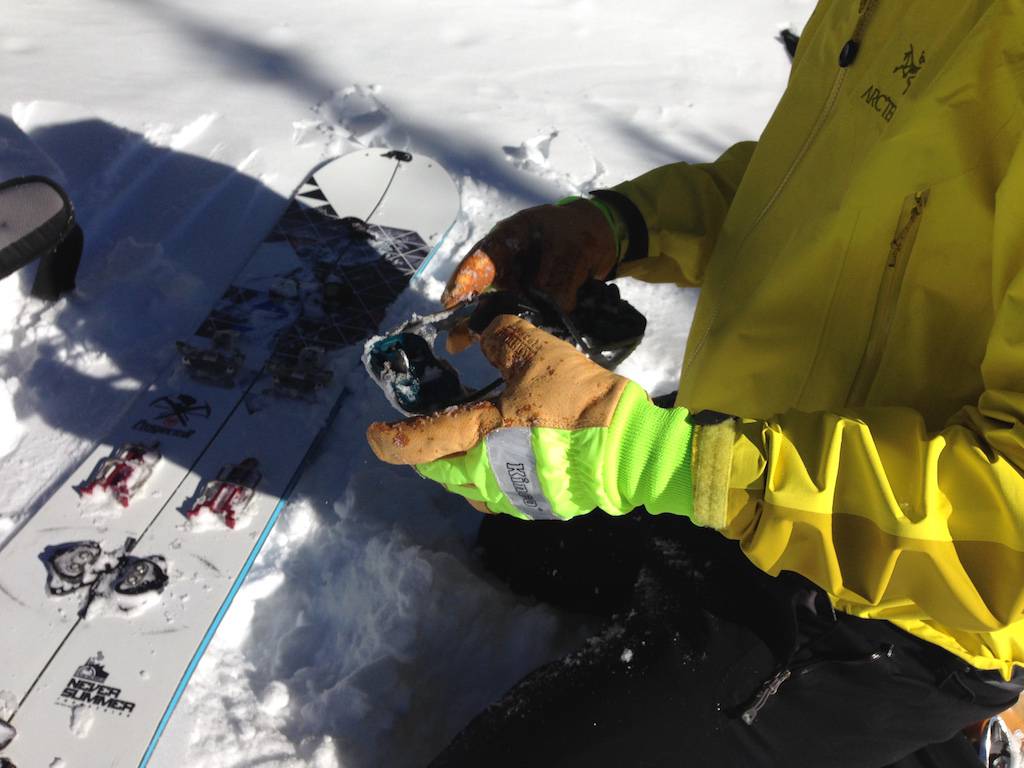 So here's where the 1939KWP's fit perfectly in to the mix. Uptracking, digging pits, and situations where the 901's are just too warm. After all, the last thing anyone wants in the backcountry is for their hands to sweat. Like the original 927's these are designed for lighter all around use in the snow and moderate cold temps.
Many of the same features that are built in to the Kinco 901's have been incorporated into the 1939KWP's such as the Draylon® thread and bullet-proof construction of the palm and fingers. I would highly recommend checking out my review of the 901's to get an idea of the overall construction. The 1939's have a nylon back with a 3M Scotchlite™ retroreflective band. A full waterproof lining, and HeatKeep® thermal lining. The durable pigskin leather out wears regular cowhide ski gloves. The reinforcing leather patches sewn with Draylon® thread cover the palm area and fingers for extra abrasion protection. All the advantages of the heavier 910's, with a more pliable fit.
Kinco 1939KWP Glove Specs
Description →
Pigskin Leather →
Drylon Thread →
Sizes →
Leather Finish →
Knit Cuff →
Ideal For →
Suitable For →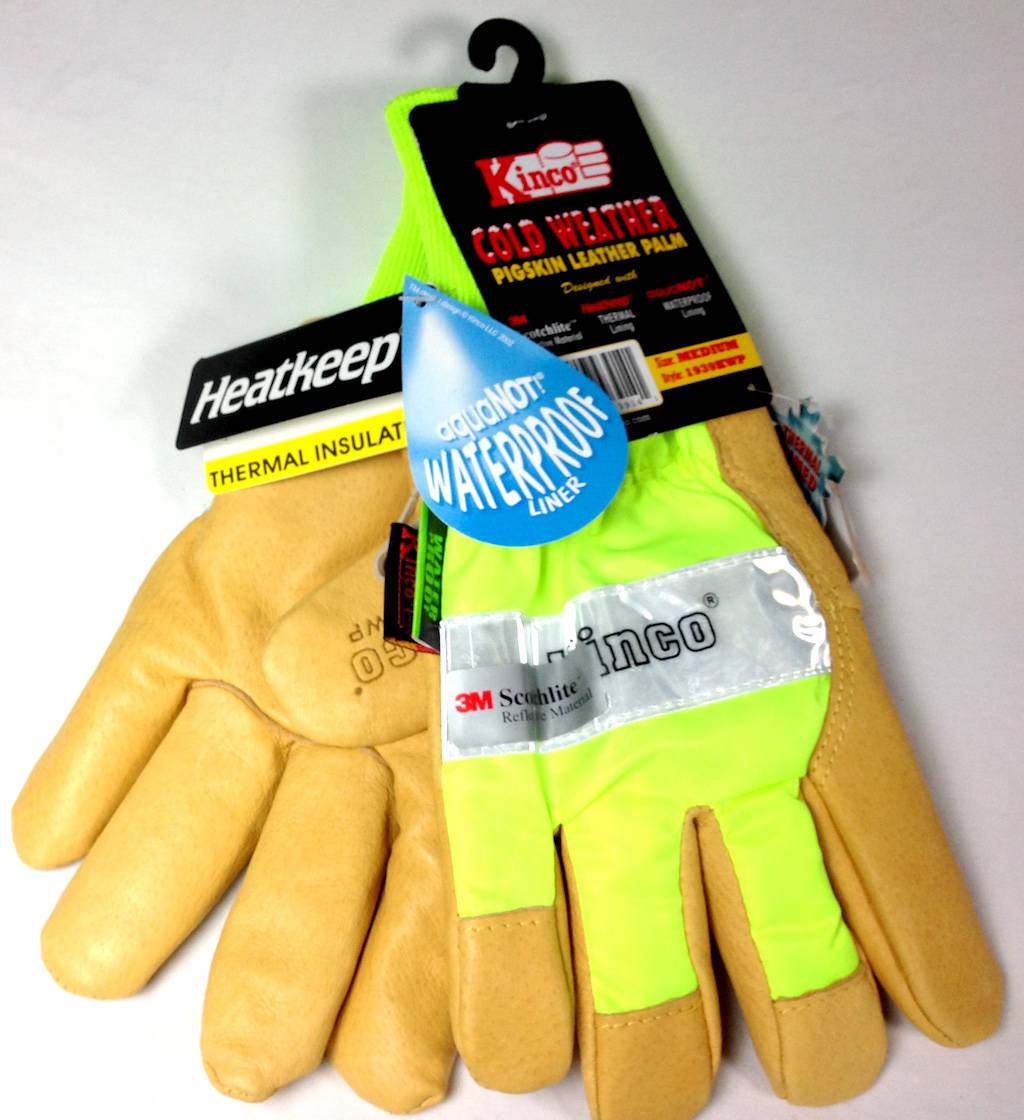 Safety Green Nylon Back.
Waterproof Lining.
Hi-vis lime green provides additional daylight visibility.
3M Scotchlite™ striping stands out day and night.
Durable pigskin leather out wears regular cowhide ski gloves
HeatKeep® thermal lining
Reinforcing leather patches sewn with Draylon® thread covering the palm area and fingers for extra abrasion protection
Pairing Hook
Pigskin leather is tough and pliable. Soft drying and flexible, pigskin leather withstands moisture without stiffening. It also has excellent abrasion resistance and durability. Durable pigskin leather out wears regular cowhide and fabric ski gloves
Draylon is used on many of Kinco's double palm sewn gloves because of being the best known material for abrasion and tensile strength. Known to be used in parachute cords can speak for its strength.
Men's Small, Men's Medium, Men's Large, Men's X-Large
Leather which has not had the upper "top grain" and "split" layers separated. This leather is the second-highest quality and has had the "split" layer separated away, making it thinner and more pliable than full grain.
Easy-On™ or Shirred Elastic Cuff. The Knit Wrist is a comfortable and snug fitting that helps prevent snow and ice from infiltrating the glove, while simultaneously keeping in warmth.
Skitouring / Backcountry Skiing
Freeriding / Boarding
Alpine Skiing
Snow Study
Classical Alpinism
Expeditions
Winterhiking / Snowshoeing
Rescue / Guide / Work

Details at Glance
Conclusion
In summary, the Kinco 1939KWP have filled in a much needed gap.
I should also mention, off the shelf the 1939KWP's do wick moisture — even though they are treated with ReviveX®. The leather can be softened and water sealed in the same manner as the 901 Ski Gloves. Extra precaution on the temperature when heating since the backing is nylon — in fact, I used a hair dryer to apply it rather than the oven method for this very reason. Once this is done, the 1939KWP's are the bomb!
Retail price: $24.99
Sizing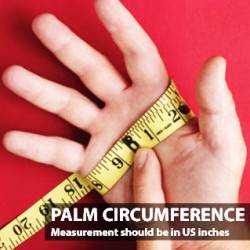 Size Chart

---
You will find Kinco gloves at many mountain hardware stores, online, or you can search for a reseller directly from the company website. www.kinco.com
---
Review Kinco 901 Ski Glove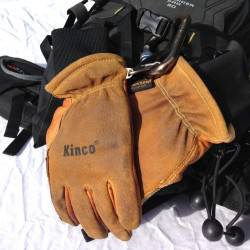 Review Kinco 901T Ski Mitt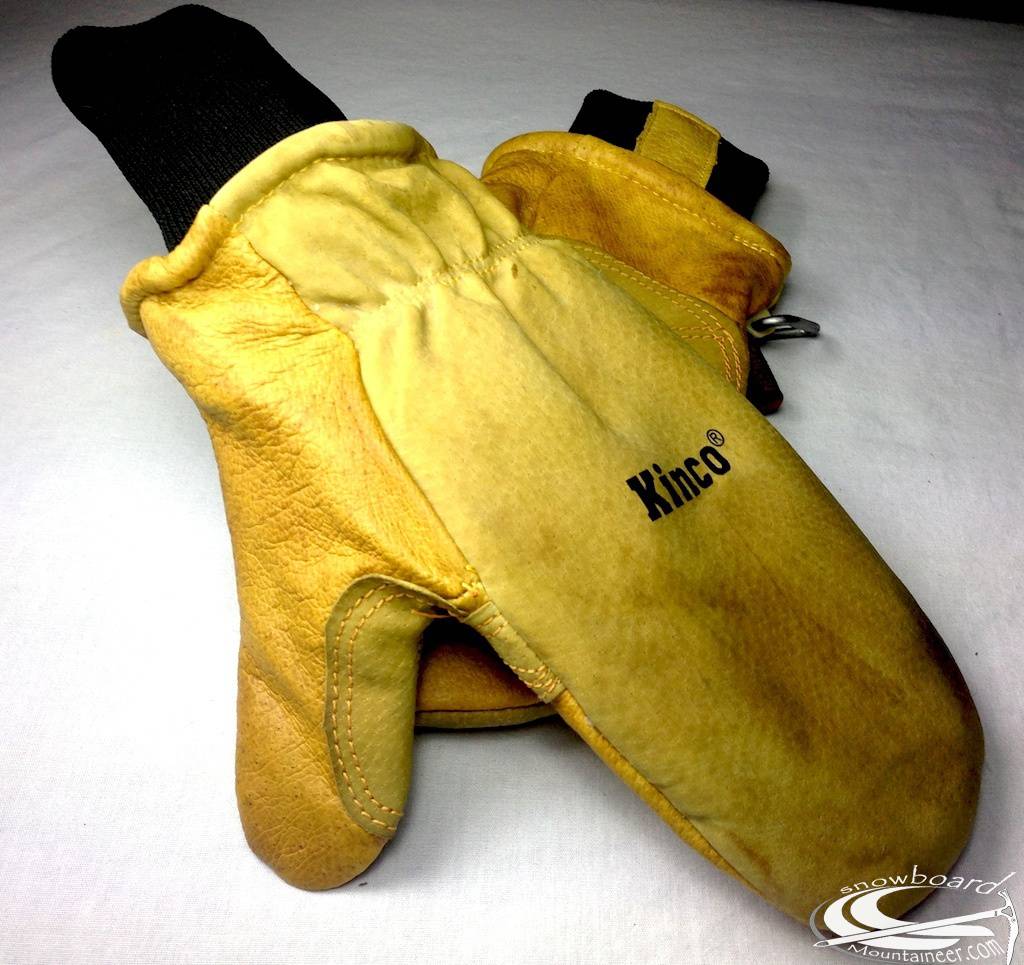 Ski resorts and patrol personnel can sign up for a direct account from Kinco.