Review: Deuter Freerider Pro 30
Deuter Freerider Pro 30 – Background
I recently had a warranty issue with my backcountry pack. The good news is that the company that manufactured it, replaced it. The bad news is they replaced it with a heap of junk made in China. After only two days in the backcountry there were multiple failures. Perhaps this is a lesson for all us, do not rely on a strong brand name when choosing your gear – pay attention to where and how it is manufactured. However, since I keep my product reviews positive let's not waste time on that.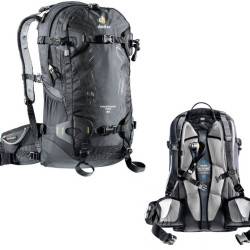 After speaking to a number of people in the SnowSports Industries America (SIA), I was lured to two particular brands of backcountry packs; Mammut and Deuter. First up is Deuter.
Deuter
A word about Deuter packs – if you haven't tried their many lines of packs, I would highly recommend that you do. Deuter USA Inc is located in Longmont, CO. A German company founded in 1898 by Hans Deuter with unparalleled quality and craftsmanship. Deuter has been recognized by its retailers as one of the top backpack brands in the industry. Deuter backs their products with a lifetime warranty. Deuter is also a BlueSign participant. It's many partners are impressive, to include American Mountain Guides Association, National Outdoor Leadership School, and various others.
My initial impression of the Deuter Freerider Pro 30
I recently acquired a Deuter Freerider Pro 30. I tour pretty extensive miles with a 30 liter pack, usually packed full for backcountry tours. Because of the tight trees and steep aspect terrain I prefer the 30 liter packs as opposed to the larger guide packs which are typically in the 35-45 liter capacity. I tour by skinning, but when the snow begins to consolidate in the spring I find myself in higher altitude terrain, couloirs, and steeper aspects. So in the spring months I typically have the splitboard mounted as an A-frame. Depending on the aspect of the couloir I might even vertical or horizontal carry the board while caning up with an axe. I was assured the Pro Series Deuter packs would fit the bill.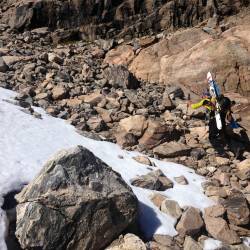 I needed a pack that could handle the rigors of the backcountry and my equipment. A pack with an internal frame and support and robust hip and shoulder support. I put the Freerider Pro 30 through the test. I was amazed at how well the pack handled an A-frame. Most packs tend to pull at the load-lifters when rigged as an A-frame – and I have a light splitboard. The Freerider Pro 30 didn't even waiver. In fact, I could hardly tell a difference. Transforming to ride mode (skins in, bindings out) was a breeze with the zippers and compartment access. Likewise, the axe and Whippet both stowed amazingly secure. The pivoting hip system was amazing for a snowboarder – I hardly knew the pack was on. I am impressed with the Freerider Pro 30! I wish I would have found it sooner. It will serve many days in the backcountry.
Review Deuter Freerider Pro 30
The Freerider Pro 30 brings together amazing features from Deuter, such as bullet-proof durability, and functionality, and innovation. There are many options for carrying your backcountry setup whether it's AT skis, snowboard, splitboard, snow shoes, crampons, you name it. Skis & splitboards can be mounted diagonal carry, vertical carry, or A-frame. Snowboards can be mounted vertical carry with face straps and anchors made of Hypalon. The top access provides the Freerider Pro 30 with 1850 cubic inches (30 liters) of storage capacity. The full back panel opens with heavy duty zipper and allows access to the main compartment when lashed on gear prevents access from the front.
Features

Horizontal front lash straps for a snowboard or snowshoes
Vertical, diagonal and A-frame ski carry systems
Zipper on main compartment allows pack access without removing skis, snowboard or snowshoes
Vari-Flex pivoting hip belt
Hypalon front
Shovel head pocket
Internal probe/handle sleeve
Fleece-lined goggle pocket
Hip belt pocket
Removable helmet holder
Removable snow-sit pad
Hydration compatible (hydration system sold separately)

| | |
| --- | --- |
| Recommended Use: | Snowsports and Winter usage |
| Weight: | 3 lb 15 oz |
| Dimensions: | 22″ x 12″ x 7″ |
| Type: | Ski/Snow Pack |
| Volume: | 1850 cu in |
| Material: | Hypalon/Ballistic |
| Frame Material: | Delrin |
| Fits Torso: | 17.5″-22″ |
| Hydration Compatible: | Yes |
| | |
| Access: | Front Panel Loading |
| Detachable Daypack: | No |
| Sternum Strap: | Yes; Adjustable Position |
| Torso Adjustment: | No |
| Other: | Ski/Snowboard/Snowshoe carry systems and removable snow-sit pad |
| Warranty: | Lifetime |

Rear view of pack
The real advantage to this pack is the comfort! The VariFlex pivoting hip belt will follow your natural movements. The Freerider Pro 30 utilizes Deuter's Alpine Back System which is comprised of vertical padded foam strips and a Delrin support rod. This system offers stability and comfort while providing a chimney at the spinal column for ventilation. The shoulder straps are perfectly contoured and articulated to enhance comfort and precision fit. The hip fins are anatomically formed and fit snug. The pack is also equipped with load-lifter straps and a sternum strap which work in tandem with the shoulder and lumbar padding to distribute The force created by gravity acting on a mass." class="glossaryLink " target="_blank">weight. The Freerider Pro 30 is arguably over-built with comfort – which allows you to load the weight of gear and AT setups.
The storage compartments are numerous. The avalanche gear compartment contains a sheath for rapid probe or shovel handle access, and there is a pocket for the shovel head. There are also three other mesh pockets in this compartment for safety gear. The avalanche gear compartment is waterproof fabric from the other compartments.
The main compartment also contains additional pockets and can be accessed from a full zip back panel – a feature I could never do without. The heavy duty zipper on this compartment also snaps together to prevent a creeping zipper from opening. The top pocket is fleece lined for goggle storage. The hip belt also contains a pocket for a camera or snacks. The main compartment is also hydration compatible, and is outfitted to hold a bladder. I personally do not use a hydration system as I prefer Nalgene.
Features include a removable snow sit pad, and helmet carrier that attaches to the back for when you are making ascents on the verts and stowing your helmet. The chest strap has a flexor, is sound construction, and does not rely on a filament slider which tend to break if you take a digger. The chest strap also has a built in whistle on the harness. The shoulder straps have numerous horizontal and vertical lashing strap mounts. The hip belt contains a zipper pocket and an equipment loop for an ice tool, or radio. There are also two elastic pockets for Nalgene bottles or additional carry items. There are two adjustable ice axe loops, and an additional ice tool shock cord retainer. On the rear lashing straps, there are also two shock cord mounts for holding trekking poles in place. The compression straps on the sides reduce pack size for smaller loads, and also accommodate an A-frame ski or splitboard carry. Two horizontal compression straps on the rear for extra gear, ski or snowboard vertical carry, or additional compression. The lashing web mounts are made of rugged Hypalon, as well as the entire front which protect the pack from crampons, skins, bindings, ski and snowboard edges.
Gallery of features and uses
Many packs I have used include nonsense cheap gizmos that I often modify or eliminate, but the Freerider Pro 30 has an excellent balance of well thought out innovations that are crafted with quality workmanship. Below is a gallery of photographs to highlight the many features on the Freerider Pro 30.
---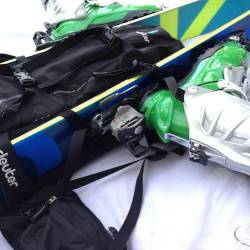 If you have a shorter torso, you will benefit from the women's
Freerider Pro SL
, check out Tiffany Hansen's review of the Deuter Freerider Pro SL
Also check out the review of the Review: Mammut Nirvana Pro 35 backcountry pack