Tech Tip: Trekking Pole Tip Replacement

This tech tip applies specifically to the Black Diamond Trail Shock trekking pole. Although, this would also apply to many of the trekking poles and whippets across the board.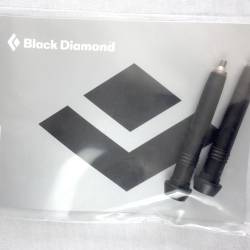 Trekking pole tips wear out eventually with the rugged abuse they receive. Eventually the threads for the powder baskets will strip out. Keeping the whole tip assembly replaced every season will ensure you keep the baskets. Generally the tip replacement assembly is around $5.00 for a pair. You can find these at any retailer that carries Black Diamond accessories or order them directly from Black Diamond.
Replacing the tips is easy following a few simple tips.
The plastic material of the trekking pole tips expands with heat, and contracts when it cools. So with that in mind, this tech tip should be easy to follow.