Tech Tip: Ski Pole Baskets
Don't lose a pole basket again
This is a quick tech tip and modification that will keep you from losing a pole basket. Granted, once you lose a pole basket one time, without a spare on hand — it will be the last time you repeat that mistake. Without a basket, poles are useless. When several miles back, you will be wishing you made a simple modification to keep that basket in place.
I would suggest the Black Diamond Compact Basket for splitboard touring poles. The Compact Basket is a three-quarter basket that allows the poles to be stowed together. In the case of splitboarding, we generally do not use poles in ride mode. A compact set of baskets makes poles, or a pole-whippet combo, easier to stow in the pack during the descent. Full sized powder baskets can be cumbersome to stow compact.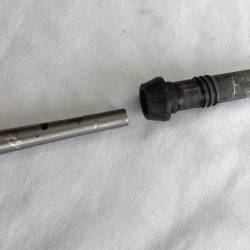 Prior to placing baskets, assure your poles tips have threads that are serviceable and not stripped. If your pole tips need to be replaced, it's an easy and expensive fix covered in more detail here.
Thread your baskets on to the pole. Wipe the connection between the pole tip and basket so that it is free of dirt and oil. Use a few wraps of electrical tape at the connection between the pole tip and basket. Pull it really tight to stretch it on the seam. Assure the tip, basket and tape are warm.
With this simple modification your baskets will stay put, and will still allow you to remove them when you want them removed.
That all there is to it!
Simple trekking pole stow leash
Another quick modification is using a shock-cord tarp tie-down with an extra ball clasp for securing trekking poles. This configuration is easy to use while wearing gloves, and the shock-cord stays on the trekking pole while touring. When stowing the trekking poles, this attachment is quickly pulled to keep them secure. It's a very simple modification.