Gear Review: Women's Arc'teryx Beta AR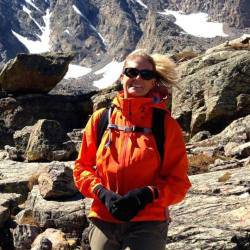 This review comes from Tiffany Hansen, as a second part to Arc'teryx Beta series jackets. In a previous post Tiffany reviewed the Arc'teryx Beta LT, the lightweight cousin to the Arc'teryx Beta AR. We will now take a closer look at the Beta AR and she will compare and contrast the two. While I realize that the female version of Arc'teryx Beta LT & Beta AR, the product, materials, and use itself are virtually gender neutral, there are key aspects that are well-defined from a woman's perspective.
---
Earlier I covered Arc'teryx Beta LT, and described why the Beta LT was my go to shell for lightweight approaches in the three seasons. I am going to take you along for a closer look at the heavier Arc'teryx Beta AR which is my full four season technical shell. This jacket was my entry into the world of Arcteryx. This is the best shell I've ever worn. It's incredibly light and the seams and zippers are things of beauty. The design is streamlined – nothing frivolous, everything has a purpose.
Intro
To really simplify the Arc'teryx product line it helps to understand Arc'teryx abbreviations and designations of technical shells. Arc'teryx also breaks down technical shells and apparel in to 'fit catergories'. This designation system helps to easily keep track of The force created by gravity acting on a mass." class="glossaryLink " target="_blank">weight and purpose if you are looking for a technical shell so that you can pair it with it's intended use.
Like the Beta LT, the Beta AR is the perfect balance between room for layers and fitted. When I say fitted, I mean flattering. The women's Beta AR is shaped specifically for women. It is flawless is tailored design. It feels like the natural solution to the question of fit, as opposed to a compromise between two options. The fit is feminine and there is room for several layers underneath if needed. And, while vanity isn't a concern when buying gear, looking good is definitely a great bonus! And, truthfully, well-fitting gear makes all the difference in terms of performance and utility as well. More importantly to me, the fit of the jacket signifies the thought and care put into the design, which is evident in all aspects of the jacket.
This is the most streamlined winter hardshell I have ever owned, but I will get to that in a minute. Let me start with the manufacturing specifications under the following tabs.
Arcteryx Beta AR Specs
"Description
Key Features →
All Around →
Just The Right Length →
The Hood →
The Key Piece →
Arc'teryx Fit Guide - Athletic Fit →
e3D →
Women's Sizing Chart →
Care →
Beta Series: All-round mountain apparel | AR: All-Round. Women-specific, lightweight & packable, waterproof GORE-TEX® jacket; Hip length with a helmet compatible DropHood™.
Shaped specifically for women, the streamlined Beta AR Jacket provides the backcountry minimalist with durable storm protection in a lightweight and packable format. This hip length waterproof/breathable jacket reduces layering overlap and bulk, a helmet compatible DropHood™ offers quick coverage, and a supple-feeling lightweight GORE-TEX® Pro textile provides guaranteed storm protection.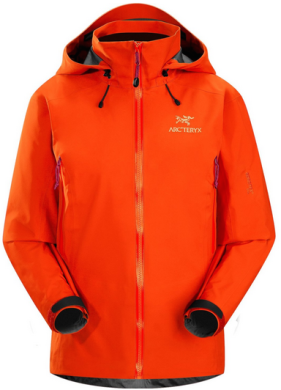 Technical Features

Waterproof
Breathable
Lightweight
Durable

Construction

Micro-seam allowance (1.6 mm) reduces bulk and weight
DWR finish (Durable Water Repellent) helps repel water from fabric surface
Taped seams for added weatherproofness

Patterning

Anatomical shaping for fit and comfort
Gender specific patterning
Articulated elbows
e3D Ergonomic 3-Dimensional patterning for enhanced comfort and mobility
No-lift gusseted underarms
Athletic fit for a slimmer more flattering profile

Hood Configuration

Laminated brim
Adjustable hood drawcords
Helmet compatible DropHood™

Collar Configuration

Chin guard with brushed microsuede facing for added comfort
Zippers & Fly Configuration

WaterTight™ external zippers
Laminated pit zippers allow for faster venting
Corded zipper-pulls reduce noise and are easy to grab
WaterTight™ Vislon front zip
Zipper garages to protect zipper closure from snow and rain
Cuff & Sleeves Configuration
Die-cut Velcro® cuff adjusters reduce bulk, and won't catch or tear off
Hem Configuration
Drop back hem
Laminated hem
Adjustable hem drawcord
Pocket Configuration
Internal chest pocket with laminated zip
Two high-volume hand pockets
Note: Our WaterTight™ zippers are highly water resistant, but not waterproof. We do not recommend keeping items in your pockets that may be damaged by moisture
A mainstay in the Arc'teryx lineup since 2000, the Beta AR is the do everything, most versatile waterproof/breathable jacket for mountain environments. Hand pockets, athletic fit that accommodates maximum layers and a hood with an internal collar mean comfort in storms, climbing, skiing or simply enjoying the outdoors.

Hip length is the easiest to work with when layering waterproof/breathable garments.The Beta AR hits the middle ground.
A good hood is a crucial detail on any serious alpine jacket. The Beta AR features the Arc'teryx DropHood™, a helmet-compatible, fast adjust hood with a separate collar for draft protection.
If a person can only choose one jacket for all their activities, the Beta AR is a solid, well-rounded piece. Durable, lightweight, with hand pockets and pit zippers for ventilation, it can manage storms, rock, snow and cool seasons. GORE-TEX® Pro delivers the highest level of waterproof/breathable performance.
The Arc'teryx Beta AR is 'athletic fit'. This is the 'Arc'teryx Standard' fit. These complete patterns utilize anatomical shaping and gussets to enhance motion by minimizing excess bulk. Easy layering under or over each item extends seasonal versatility and comfort.
Standing in as the "Arc'teryx Standard" fit, the complex patterns used utilize anatomical shaping and gussets to enhance motion and eliminate excess bulk. Trimmer than the Relaxed fit with room for a base layer, a light fleece mid-layer and a synthetic or down filled mid-layer.
Ergonomic 3-Dimensional Patterning
Ergonomic 3-Dimensional (e3D) patterning brings an additional level of articulation to provide enhanced range-of-motion in our Trim, Athletic and Expedition fit categories. The application of e3D patterning allows for enhanced mobility for sport-specific activities in challenging environments.
How to find your measurements
Sleeve:
With your arms in a slightly bent position, measure from the center of the back of your neck, along the length of your arm, to the wrist.
Chest/Bust:
Measure around your chest/bust, holding the measuring tape under your armpit.
Waist:
Measure around your waist at the narrowest part.
Hip:
Measure around your hips at the widest part.
Machine wash in warm water (30°C).
Double rinse.
Do not use fabric softener.
Tumble dry on medium heat.
Do not iron.
Function, Flattery, and Use
As I said in the introduction, vanity isn't a concern when buying gear, but flattery is a bonus! The Beta AR is a functional four season hardshell from backcountry winter sports, hiking, and climbing. A true athletic fit and true to its size.
The Beta AR is ready for anything mother nature throws at it. The weight ratio is perfect, a women's medium weighs right at 15 ounces. It is versatile beyond words and can take on howling winds and winter snow. For all its durability it still packs extremely well. It has with lots of room for layers but doesn't look baggy without them. The N70p nylon is also extremely durable, yet supple and soft to the touch. In conjunction with the right layering systems this jacket could work anywhere from -25 to 75 degrees. When it comes down to it, that is pretty versatile.
I find that the cut of this jacket is just so much more flattering than any other jackets or shells I have owned. It just hangs right and feels comfortable no matter what, without any awkward bunching. The back is tailored to upper thigh length – which is perfect. Keep in mind the women's Beta AR is patterned gender specific. Meaning you will receive compliments.
The pocket placement and length is perfect for a harness underneath. As with most Arc'teryx technical shells, the pockets face inner versus outer which is of course a huge plus for pack straps or a harness. I have muscular shoulders and longer arms and legs. I can easily wear this over other layers I own, but the cut is still flattering enough that I don't look like I'm wearing my tent. It is a true fit. Other shells I've owned in the past were narrow through the shoulders and really restricted movement or lifted when the arms were up, but this one is perfect. The range of motion and mobility is exactly what I look for in a hardshell, especially in winter activities. The internal pocket, like the Beta LT, is just large enough for my iPhone with its bulky waterproof impact-resistant case.
If I were to suggest a single all around hardshell, the Beta AR would be it. It functions as the go to shell in the winter backcountry, a layering shell in the shoulder seasons, and rain protection in the summer. It is very breathable yet at the same time will keep you dry. The only reason I own both the AR and LT, is because the LT is slightly lighter for rapid approaches, and this would also appeal to ultralight trail runners as every ounce counts. In all honesty though, I prefer my Beta AR as the go to shell in the Colorado mountains in all four seasons.
Details
Next I will go over a few of the finer details.
Conclusion
The Arc'teryx Beta AR is a bullet-proof technical hardshell. My jacket reviewed was a size medium 2014 Women's Arc'teryx Beta AR in the color 'Tiger Lily'.
Retail price: $550.00 USD
Personally I would keep an eye for sales and specials if seeking out this shell. Although they do not happen often and when they do the color selection and size can be a challenge. But if you are patient you will find them. Note that sometimes certain retailers only carry certain colors from the product line, while other retailers carry other specific colors.
You can find more information on the Arc'teryx website. www.arcteryx.com
---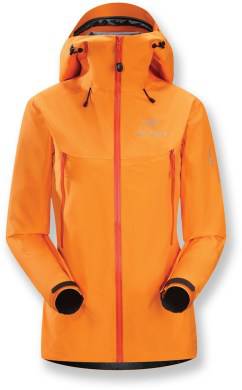 Check out my full review on the Women's
Arc'teryx Beta LT
Check out my comparison of the Women's
Arc'teryx Beta AR & Beta LT