You should carry these items in the backcountry
1. Beacon
2. Shovel
3. Probe
4. Backpack
5. Helmet
6. Snow Saw
7. Skins
8. First Aid
9. Repair / Tool Kit
10. Radio / comms (mine is a HAM radio with preset repeater frequencies for the area I will be in)
11. Snow Study Kit
12. Inclinometer
13. Ski straps (rescue sled) if applicable
14. Cordelette
15. Field Book
16. Map and/or GPS
17. Headlamp
18. Monocular or binoculars
19. Nalgene bottle / hydration pack
20. Stove or jetboil
21. Ski Strap
22. Skin Wax (spring)
* The items suggested alter considerably depending on the season, objective, and so on.
First Aid Kit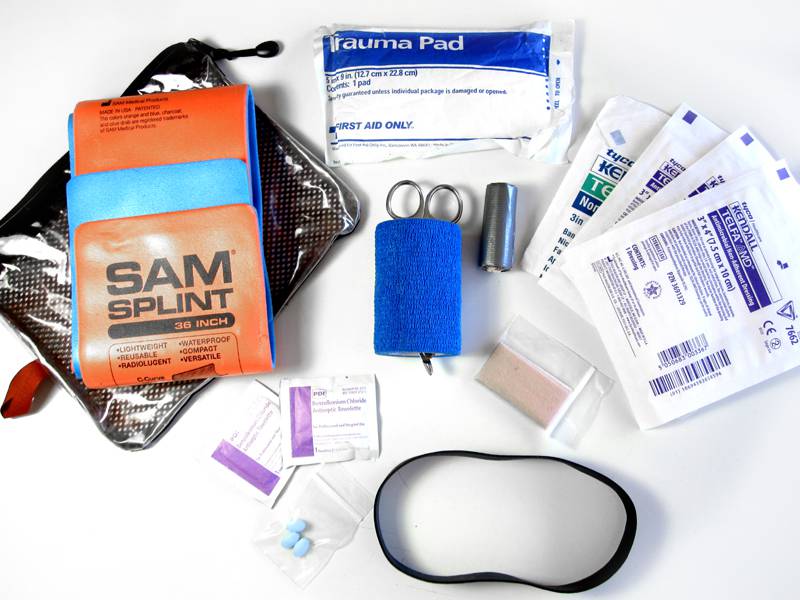 Duct tape (micro roll of 10 yards)
Scissors
Coban
Tourniquet band
Kendall pads *
Kendall trauma pad *
Benzalkonium Chloride or similar
Sam splint
Soft drugs / Hard drugs
* Note: I mention the Kendall brand for a reason, there are other brands you can get – and most all others are worthless. ** Carry first aid that congruent to your skill level.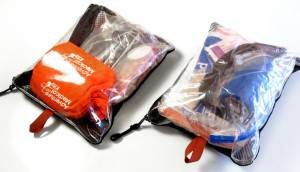 In an identical waterproof bag to the first aid kit (shown left), I also carry an essentials bag – in it; emergency bivy (made by adventure medical), chemical firestarter, storm-torch matches or lighter, and items for a repair kit.
Repair / Tool Kit
I wrote an in-depth post on the repair kit covering all the items and the reasons behind those items – here.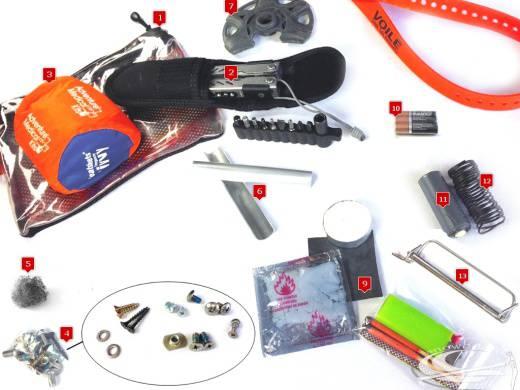 Snow Study Kit
I have more in-depth detailed information about the snow study kit – here.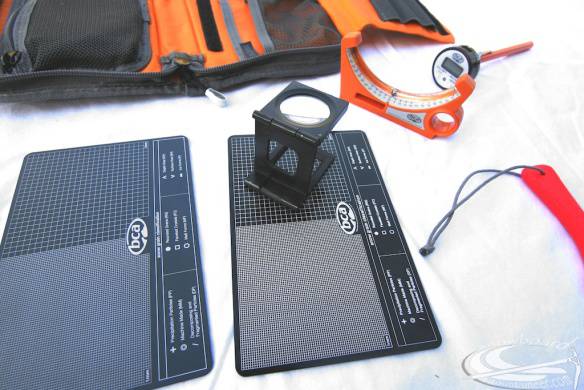 Personal Locator Beacon (PLB)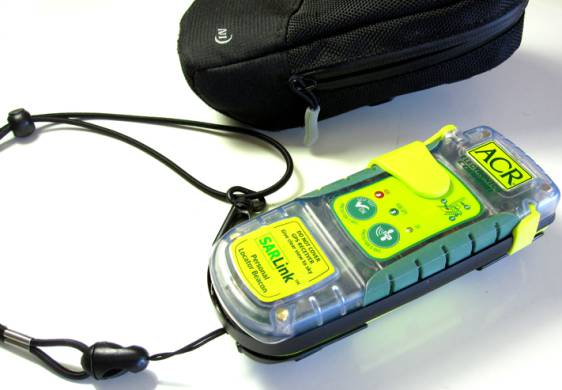 Depending on the terrain and route I may carry a PLB. I have detailed information about the PLB – here.
Rescue Sled Modification
I add three more ski straps (for a total of four) and a cordelette for companion / rescue sled – instructions are more detailed here.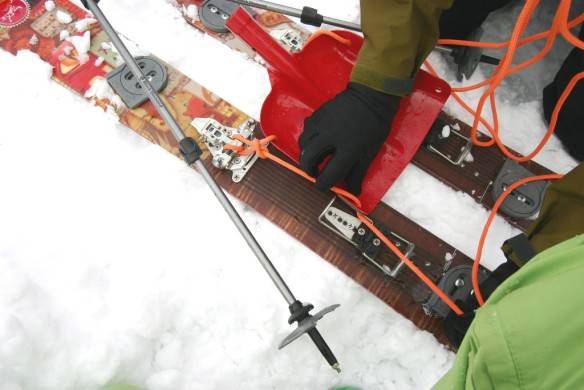 Other
Depending on the time of year – one might also carry sunscreen, skin wax – to prevent icing, etc. I always keep a headlamp in the pack. A ski strap comes in handy because they are designed to withstand torque in sub-zero temps. Needless to say, trekking poles, ice axe, whippet, crampons, etc. are route specific. Your list of items may vary. Individual experience likely determines how you pack the next time you go out and the list is in constant flow. Maintain a balance between lightweight and practical. My individual experiences tell me that just because my partner has a first aid or essentials kit does not mean I will leave mine behind. There are too many scenarios that would be invalid. Know your limitations. The backcountry is very different from ski resorts, and the slightest medical emergency can be fatal. You are never over-prepared when an emergency happens.
Overview | Gear | Forecast | Training | Get the Picture